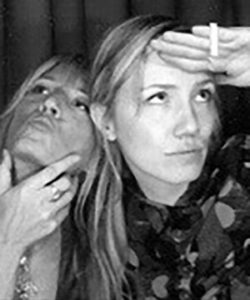 Art & Industry is an award-winning, full-service television production company that combines creativity and technology to produce inspired, break-through content. Founded in NYC in 2004 by Executive Producers Michelle Caputo & Shannon Hartman, A+I's greatest strength lies in identifying the point of view of all types of talent and elevating their unique voice, through premium, visually compelling storytelling. Art & Industry's work has a global reach, and spans across genres and formats including comedy, music, documentary film, talk & variety shows, sketch, specials, and live events, with distribution partners such as HBO, Netflix, Comedy Central, TruTV, Epix, Showtime, MTV & Max. Led by a dedication to inspire audiences through innovative storytelling, Art & Industry has won a Grammy and two Peabody awards – most notably for Hasan Minhaj's critically acclaimed weekly political talk show "Patriot Act with Hasan Minhaj."
Michelle Caputo is an award-winning producer with the unique ability to use her whole brain – left & right. With a BA in Communications from the University of Colorado and a passion for music, Michelle began her career in the music industry. As an artist development executive at various record labels, Michelle turned many unknown artists into household names with multi-platinum record status. In 2002, Michelle left BMG to form a video production company specializing in music videos and other short form content. In this capacity, Michelle learned to craft storytelling within 3 minutes and create visually compelling content on a tight budget. In 2004, Michelle landed funding and distribution for a music documentary and enticed Shannon Hartman to direct, and form Art & Industry. Michelle's favorite aspect of A&I is the capacity to collaborate with so many unique artists to elevate their voices and move audiences on a global scale. Off the clock Michelle enjoys life on the Lower East Side of Manhattan; playing guitar in an indie rock band, and cuddling with her rescued poodle mix, Jack. She and her partner Steve had a second baby – a daughter named Davis, in 2019.
Shannon Hartman is a DGA director, producer & editor, who has worked on some of the most memorable comedy specials in recent years. She was born and raised a Jersey girl. After graduating UMASS Amherst with a degree in film/communications – she landed her first job in the business at the MTV beach house. She quickly worked her way up the ladder, honing her skills in the pop culture incubator of MTV while working on over 100 shows with a variety of artists. After 8 years with the network – she decided to join forces with Michelle Caputo to form Art & Industry. With Art & Industry – Shannon gets to combine her passion for music and comedy with a love of moving images. Her greatest strength lies in her ability to execute projects from concept to delivery, while applying her complete skill-set to every job. She's worked with every camera setup from the Alexa / Red – film-style shoots to multi-camera trucks and has an A-list team of operators to back her up. When not working – Shannon lives in Brooklyn and spends her time walking her rescue dogs, hanging with her twin daughters and drinking margaritas (sometimes simultaneously).