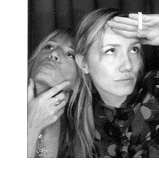 Art & Industry is a full-service television production company that combines creativity and technology to produce inspired, break-through content. The NYC-based team was established in 2004 by producer Michelle Caputo and director / editor Shannon Hartman. While "A&I" can execute a wide variety of television formats, the company currently specializes in live events, comedy & concert specials, and documentary programming for television and the web.

Art & Industry was launched in 2004, when their music documentary "Bastards of Young" was picked up for distribution by Image Entertainment and later purchased for broadcast by the Fuse Network. The film garnered significant press and A&I went on to produce several concert DVDs and band documentaries for worldwide distribution.  In 2006, A&I was hired to produce it's first comedy special for acclaimed Irish comedian Tommy Tiernan. They sought to convey Tommy's unique charm as an evocative storyteller, and flip the script on the typical formulaic comedy special aesthetic. Based on this success a career in comedy was born that raised the bar for creative & production values in the stand-up comedy space. A&I went on to produce specials for some of the biggest names in standup comedy, including Bill Burr, Kevin Hart, Louis CK, Craig Ferguson, Donald Glover, TJ Miller, Jim Norton, Bo Burnham, Margaret Cho, Jim Jefferies and many more. 

In 2009, Art & Industry landed their first series with John Oliver's New York Stand-Up show for Comedy Central. The series was at the forefront for introducing some of the biggest names in comedy over four successful seasons. In 2010, in partnership with Louis CK, Art & Industry produced "Hilarious" for the big screen which was the first stand-up concert film to premiere at the Sundance Film Festival, and won a Grammy for best comedy album. In 2014 Shannon and Michelle were show runners for Tru TV's Impractical Jokers "Practically Live!" tour documentary and live performance special which pulled in exemplary ratings. Art & Industry continues to build a reputation with talent and it's numerous broadcast, distribution and production partners for unparalleled production values and means of execution.

- - - - - - - - - - - - - - - - - - - - - - - -

Michelle Caputo is an award-winning producer with the unique ability to use her whole brain, left and right. Upon earning a BA in Communications from the University of Colorado, Michelle's passion for music led her to a career in the music industry. Throughout her nine years in artist development at various record labels, Michelle turned many unknown artists into household names, including multi-platinum rap artist Lil' Jon. Forecasting the effects of technology on the music business, in 2002 Michelle left BMG to form a video production company that specialized in music videos and other short form content. In this capacity, Michelle learned to craft storytelling within 3 minutes and create visually compelling content on an extremely tight budget. In 2004, Michelle landed funding and distribution for a music documentary and enticed Shannon Hartman to direct, and form Art & Industry. As Art & Industry, Michelle and Shannon merge their complimentary skill sets, and inspired creative sensibilities with shared high standards for production value and ethics. Off the clock Michelle enjoys life on the Lower East Side of Manhattan; playing guitar in an indie pop/rock band, and cuddling with her rescued poodle mix, Jack.

- - - - - - - - - - - - - - - - - - - - - - - -

Shannon Hartman is a DGA director, producer & editor that has worked on some of the most memorable comedy specials in recent years.

She was born and raised a Jersey girl.  After graduating UMASS Amherst with a degree in film/communications - she landed her first job in the business at the MTV beach house.  She quickly worked her way up the ladder, honing her skills in the pop culture incubator of MTV while working on over 100 shows with a variety of artists.  After 8 years with the network - she decided to join forces with Michelle Caputo to form Art & Industry.  

With Art & Industry - Shannon gets to combine her passion for music and comedy with a love of moving images. Her greatest strength lies in her ability to execute projects from concept to delivery, while applying her complete skill-set to every job.  She's worked with every camera setup from the Alexa / Red - film-style shoots to multi-camera trucks and has an A-list team of operators to back her up. 

When not working - Shannon lives in Brooklyn and spends her time walking her rescued huskies, hanging with her twin toddlers and drinking margaritas (sometimes simultaneously).







Clients


3 Arts Entertainment
Atlantic Records
Comedy Central
Concrete Marketing
E-One Entertainment
Epix
Fuse TV
Image Entertainment
J Records
Lava Records
MTV
Netflix
Red Light Entertainment
Seeso/NBC Universal
Showtime
Taste of Chaos LLC
Tooth & Nail Records
TruTV
TVT Records
Vagrant Records
Warped Tour
Victory Records
Warner Bros. Records